ClearMobile Sales
Face to face sales and delivery just got a whole lot easier
Your very own B2B eCommerce and delivery platform
ClearMobile Sales is a web enquiry and sales solution for mobile sales professionals that accept customer orders on the spot
Product Lookup
Have your entire product catalogue or opt for a limited subset of products that are accessible to your mobile sales team
Customer Specific Pricing
Customer pricing is in line with all contracts, discount structures and specials already set up in Clear Enterprise
Franchise Ready
Give your franchisees the ability to create sales and fulfill services
Flexible Ordering

Create orders & then recall them when delivering to your customer. For reorders and standing orders, just check history, copy an order and amend if necessary. All done within minutes.

Invoice On Delivery

Invoice on the spot and either email to your customer or, print a hardcopy using a bluetooth printer connected to your device

Sell & Fulfil Quickly

Sales representatives have the confidence to create orders and invoices for actual on-hand or transit stock, no matter what the system stock level is.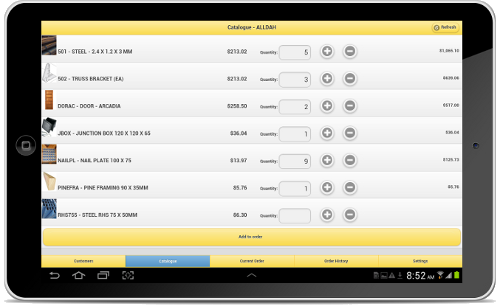 'ClearMobile Sales leverages your investment in Clear Enterprise by giving sales people easy access to sales functionality and up to date information anywhere, anytime.'